If you don't see frames or to break out of a frame, click here.
---
Win an Award

If you think you've got a good Pokémon site, what better way is there to show off your site than to win an award! When you're ready to win an award, then email me with your site address, site name, and your name. Then wait to see if you win!

There are three awards to win. I choose who will win them, so if you want the best award, have a very good web site!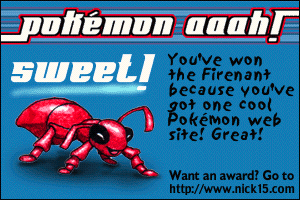 If you want to steal these awards, PLEASE GO FOR IT!! I need some extra links to my site!

---
Text and Information © 1999-2000 by Philippe Van Lieu and/or respectable partners.
This website is in no way affiliated with or endorsed by Nintendo, Creatures, GAMEFREAK, or Wizards of the Coast.
Disclaimer