Pokémon Fake Cards:
The Blanks Workshop
Hoo hah! This page contains more blanks for you to use when making fake cards. The ones found on this page are ones that Nick15 himself created, ones that don't exist in the Pokémon TCG AT ALL. Wheee!!! They're 100% new and 100% cool. .... [mumbles] How else can I sell this... hmmm.... Uh... they're cool! ... [slight pause] Sna. I got nothin'.
Anyway, basically this page has all sorts of blanks which you'll never see in the regular Pokémon TCG, just something to have fun with and junk.
Now remember, they might not totally look like the real deal. That's why I said "realistic Pokémon cards", not "real Pokémon cards". And although most of the cards have fuzzy patches on them, the card will be covered up by text and symbols, so no one's going to notice (or care to notice).
Also since energy is so difficult to edit, it is not included. Sorry.
Please read: Please DO NOT remove the "This quality blank came from Pokémon Aaah! (www.nick15.com/pokemon)" text from the card. If I get enough people removing that part on the cards, I'll be FORCED to to this to the blanks: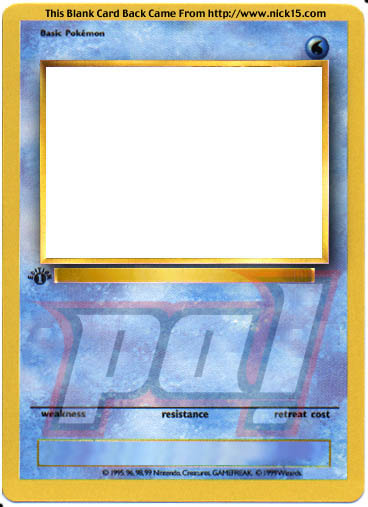 I'm sure you don't want a big fat "PA!" to stick out on YOUR fake card. SO DON'T FORCE US TO DO THIS! Don't remove the text.
BTW, I KNOW if you're using one of my blanks illegally. So don't bother to give me some sob story about how your friend gave them to your or anything when I email you about it, I'm not THAT easily fooled. I'm actually smarter than you think... ;)
Also: We are not "Tech Support", so we cannot help you install anything.