Brought to you by Hackman... hey, that's two in a row!
Today in the news:
ï Non-holo Birthday Pikas?
ï If that's not enough... Gym Challenge THIS WEEK!
ï International Cards
---
Birthday Pikachu is Holo AND Non-holo!
Just like Mew, Wizards is doing 2 versions of the well-sought card. The Non-holo one is due to come out in Leagues soon. And because of that, Kakkaroto7 has sent us a scan of his 4 Birthday Pikas!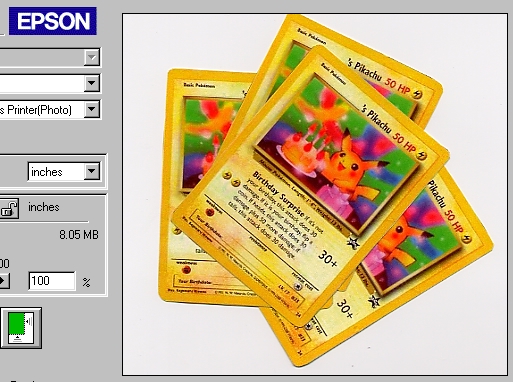 By the way, don't ask him to trade. I already tried that. =þ
---
Gym Challenge gets a release date! And you'll like this...
Get ready...
SATURDAY, OCTOBER 7, 2000
Latest Expansion of the World's Most Popular Trading Card Game Features 126 New Pokémon Game Cards and 20 Premium Cards
October 3, 2000 (Renton, Wash.) - Wizards of the Coast Inc., developer and
publisher of game-based entertainment products, announced today that the
Pokémon®*: Gym ChallengeTM expansion will be available in stores nationwide
October 7, 2000. This is the second card set in the two-part Gym series for
the world's best-selling and award-winning trading card game.
This latest card set gives Pokémon trainers the chance to put themselves in
the shoes of four great gym leaders - Blaine, Giovanni, Koga and Sabrina - as
seen in the animated TV series. This new set contains a total of 126 new game
cards and features a new design complete with the gym leaders' faces on the
front of their cards.
Each 60-card, preconstructed theme deck (MSRP: $9.99) includes a rare premium
card, a 32-page advanced rulebook, 12 damage counters, a game coin and a
trading card list. Individually wrapped booster packs (MSRP: $3.29) contain
11 randomly inserted cards and offer trainers the chance to play with and
collect rare premium cards. More information on the Gym Challenge expansion
can be found at www.wizards.com/Pokemon.
So where will you be on Saturday?
(thanks to VIVALDIBOY@aol.com and Pkmn6487@aol.com for sending this)
---
Snorlax in French is...
VIVALDIBOY@aol.com sends us an interesting card in French..
---
And a Special Announcement...
If you ever get the chance, through AIM, email, or other means...
Wish The Echidna and Dunestar a happy birthday. Both their birthdays were yesterday.