Make Your Own Fake Cards!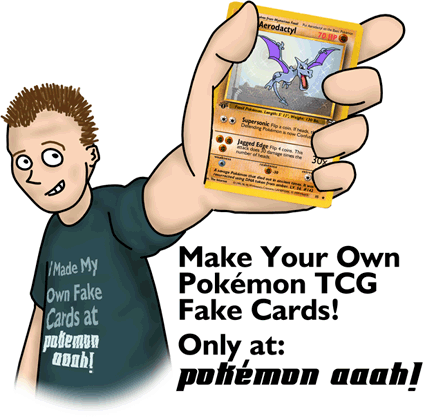 Pokémon Aaah! is the first and best web site that allows you, the viewers, to create your own realistic Pokémon cards like the one I make!
There is quite a bit of an extensive procedure to creating realistic Pokémon cards. But in the end, it's all worth it. In total, there are 7 steps.
So if you're ready to begin, then click on the "Step 1" button below!

Reminder: This section is in limbo. It might get shut down at any time without notice if I get a letter from Wizards of the Coast (the guys who make the English version of Pokémon TCG) or Nintendo telling me to shut down the page.
If you are a Wizards of the Coast or Nintendo representative and you will not allow me to distribute the the images and other such stuff in this manner, please e-mail me. If the reason is justifiable, then I will shut down this page ASAP.