Mayakashi Edition (PA! Original)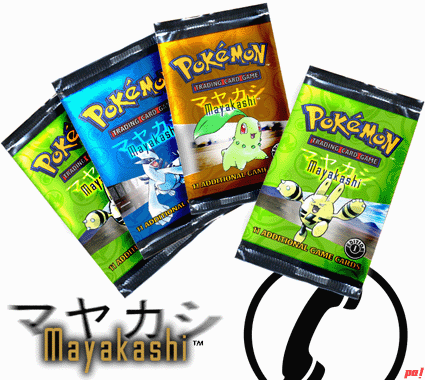 Mayakashi (maa-yah-kaa-she), meaning "fake" or "counterfeit" in Japanese. Catchy name, huh?
Anyway, this page contains the second card set created by the infamous Nick15 (Philippe Van Lieu), dubbed a Pokémon Online Legend for being the "fake master". It's another 200 card set, featuring:
• NEWER NEO blanks
• new fake card style
• Gold and Silver Pokémon in greater numbers
• cards drawn by Nick15 himself, in MORE than one style of art, including 3D-CGI, Paintings, and more.
And maybe if you're good, I'll post a bigger, better copy of the image I used for the card. ... Even cooler for this set, the "Rarity" for the will be ACTUALLY be set, meaning that there will be 66 Commons, 66 Uncommons, 33 Rares, and 33 Holo-Rares made for this set, along with 2 ultra rare cards (#199 & #200). Cool, huh?
You may freely distribute these cards to anywhere you want. You may put them on emails, the Usenet, on your web page for free, provided you link PA! on your page and that you do not modify them in any way (except for conversion).
The list is very long, there will be a total of 200 cards in the end. Each is separated into 4 pages. Cards #1-50 are on Page 1, #51-100 are on Page 2, #101-150 are on Page 3, and #151-200 are on Page 4. (I'll later seperate them by rarity.)