If you don't see frames or to break out of a frame, click here.
---
Mayakashi Edition (PA! Original)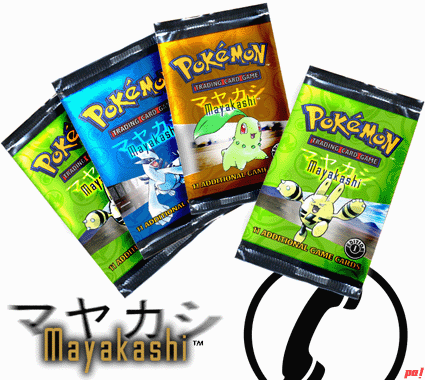 Mayakashi (maa-yah-kaa-she), meaning "fake" or "counterfeit" in Japanese. Catchy name, huh?

Anyway, this page contains the second card set created by the infamous Nick15 (Philippe Van Lieu), dubbed a Pokémon Online Legend for being the "fake master". It's another 200 card set, featuring:
• NEWER NEO blanks
• new fake card style
• Gold and Silver Pokémon in greater numbers
• cards drawn by Nick15 himself, in MORE than one style of art, including 3D-CGI, Paintings, and more.
And maybe if you're good, I'll post a bigger, better copy of the image I used for the card. ... Even cooler for this set, the "Rarity" for the will be ACTUALLY be set, meaning that there will be 66 Commons, 66 Uncommons, 33 Rares, and 33 Holo-Rares made for this set, along with 2 ultra rare cards (#199 & #200). Cool, huh?

You may freely distribute these cards to anywhere you want. You may put them on emails, the Usenet, on your web page for free, provided you link PA! on your page and that you do not modify them in any way (except for conversion).

The list is very long, there will be a total of 200 cards in the end. Each is separated into 4 pages. Cards #1-50 are on Page 1, #51-100 are on Page 2, #101-150 are on Page 3, and #151-200 are on Page 4. (I'll later seperate them by rarity.)
Card Name

Art Style

Rarity

Date Created

Number

The icons in front of the card name describe the card type. The Type Icons means that it's a Pokémon of that type. "T" means Trainer. "E" means Energy. "?" means a surprize.

Describes what style of Art Nick15 used for the image. Mostly self-explanitory.

The rarity. Easy!

Lists when the card was created. The older the card is, the more broken it may seem. (Nick15's Fake Card skills are still growing.)

Basically what order the card was though up in.

Also, if it says "(Desktop)", click on the word Desktop to get that card's desktop-sized image. Cool, huh? ;)

---

Painting

R

August 7th, 2000

1

3D-CGI

C

September 13, 2000

2

3D-CGI

U

September 28, 2000

3

Painting

R

September 28, 2000

4

Pre-Drawn Image (The ONLY one)

HR

September 29, 2000

5

3D-CGI

U

October 2nd, 2000

6

Painting

U

October 2nd, 2000

7

Painting

HR

October 2nd, 2000

8

3D-CGI

U

October 16th, 2000

9

Painting

R

October 16th, 2000

10

3D-CGI

R

October 16th, 2000

11

3D-CGI

C

October 19th, 2000

12

3D-CGI

U

October 19th, 2000

13

3D-CGI

R

October 20th, 2000

14

3D-CGI

R

October 20th, 2000

15

3D-CGI

C

October 23rd, 2000

16

Sumiyoshi Kizuki style

C

October 29th, 2000

17

Painting

U

October 29th, 2000

18

3D-CGI

C

October 29th, 2000

19

3D-CGI

U

October 23rd, 2000

20

3D-CGI

C

November 12th, 2000

21

3D-CGI

HR

November 12th, 2000

22

Painting

C

December 25th, 2000

23

Painting

C

December 25th, 2000

24

Painting

R

December 25th, 2000

25

Painting/3D-CGI

U

December 27th, 2000

26

Sumiyoshi Kizuki style

HR

December 27th, 2000

27

Tyrogue

U

28

3D-CGI

R

January 10th, 2001

29

Painting

U

December 28th, 2000

30

Painting

U

December 29th, 2000

31

Delibird

C

32

Painting

U

December 28th, 2000

33

Painting

R

December 28th, 2000

34

Painting

R

December 29th, 2000

35

Painting

R

January 15th, 2001

36

Sumiyoshi Kizuki style

C

December 30th, 2000

37

Painting

U

December 31st, 2000

38

Painting

C

February 7th, 2001

39

3D-CGI

HR

February 7th, 2001

40

3D-CGI

C

January 7th, 2001

41

3D-CGI

U

January 3rd, 2001

42

3D-CGI

R

January 5th, 2001

43

3D-CGI

R

13

January 5th, 2001

44

MC Escher style/3D-CGI

C

January 4th, 2001

45

3D-CGI

HR

January 4th, 2001

46

Painting

U

15

January 11th, 2001

47

Painting

C

January 12th, 2001

48

Painting

C

15

January 12th, 2001

49

Painting

HR

7

January 12th, 2001

50

Page 2
Page 3
Page 4
---
Text and Information © 1999-2000 by Philippe Van Lieu and/or respectable partners.
This website is in no way affiliated with or endorsed by Nintendo, Creatures, GAMEFREAK, or Wizards of the Coast.
Disclaimer